8 Best Dog-Friendly Bars and Restaurants in NYC
While the streets of New York City are bustling with people, there are also more than 600,000 dogs—some with way more IG followers than you—living here. And as the number of pet adoptions rose at record rates during the pandemic, don't be surprised if you notice more cockapoos and havanese (currently ranked as some of NYC's most popular breeds) strutting down city sidewalks.
Despite its crowded streets and even more crowded bars and restaurants, NYC is a dog-friendly city ready to embrace you and your puppy, and there are plenty of spots beyond the dog park for you both to hang out. Many bars and restaurants allow canine friends to visit if their owners choose outdoor dining, but if you want to find a spot for your dog to play with others or treat fido to a multi-course meal, we rounded up all of the best spots around the city that embrace dogs wholeheartedly.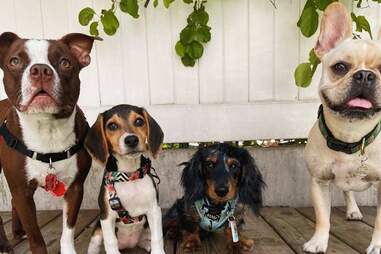 LE DOGGIE COOL
Le Doggie Cool
Williamsburg
Le Doggie Cool opened in May to provide short- and long-term doggy daycare, but they also have a coffee shop for quick visits. The cafe offers coffee, espresso drinks, and breakfast items like avocado toast for owners, and your dog can run around on the patio with other pups while you enjoy your order. On Saturdays, dogs get free ice cream with the purchase of any drink from the cafe, and this spot also hosts events like doggie and me yoga and epic puppy birthday parties.
How to book: Walk in for the coffee shop or book daycare online
Barking Dog
Although this restaurant is dog-themed, it's unfortunately as constrained by the health department as everywhere else—so dogs are only allowed on the patio. But the four-legged friends are celebrated with water bowls, drink specials for their owners, and pats from all the people passing on the sidewalk. Order some brunch mainstays (scrambled eggs for your dog, mimosas for you) while you nurse a hangover, catch up with a friend and their dog, or stop by after your evening walk for dinner and drinks.
How to book: Walk in
BORIS AND HORTON
Boris & Horton
East Village
Billed as NYC's first "dog cafe," Boris & Horton skirts health code with a pane of glass that separates the human cafe from the rest of the shop. If you're walking by, grab a coffee, toast served on bread from Balthazar, or canned wine at the window before heading in—there's a little shop where you can order a biscuit for your dog, too. Inside, the dogs will have a field day, and depending on when you stop by, there may be an adoption event, fundraiser, or pop-up from local food vendors.
How to book: Walk in
D.B.A.
d.b.a.
East Village
This neighborhood bar has become the favorite of good boys and girls from miles around the East Village. It has an extensive beer list and a $5 happy hour that lasts until 9 pm, so you can chill for hours while your friends pop in and out to pet your puppy. Fair warning: After you take your dog once, they'll try to pull you back in whenever you walk by—and who are you to say no to that?
How to book: Walk in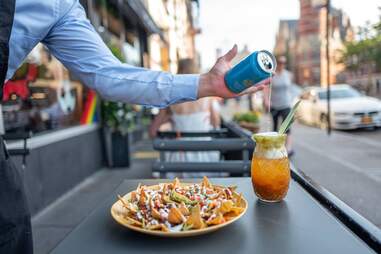 LA CONTENTA NYC
La Contenta Oeste
Multiple locations
At La Conenta's Lower East Side and Greenwich Village locations, chef Luis Arce Mota may be known for heaping piles of nachos, tacos, and enchiladas. But there's plenty for the pups to enjoy as well. The restaurant previously offered a menu for canines, but pups can still hang out on the patio and enjoy the fresh air or have the kitchen whip up a dog friendly special.
How to book: Resy
LUCKYDOG
Luckydog
Williamsburg
True to its name, Luckydog is basically a dog park where owners can toss back drinks and meet other dog lovers. This dive offers a basic menu that guests can find scribbled out on a chalkboard that covers cheap local and domestic brews, plus rail drinks, a few specialty cocktails, and bags of chips to snack on. Toward the back of the bar, there's a shuffleboard table and other games, and the bar also has a back patio that's popular with the pups.
How to book: Walk in
PIG BEACH NYC
Pig Beach
Gowanus
With plenty of room to roam, Pig Beach is a city dog's dream. The sprawling patio has picnic tables and lots of space for your leashed-up pup, and the menu offers a slate of barbecue classics, beer, and cocktails in single servings and pitchers. Owners can order up a spread of brisket, ribs, or a burger, and tack on sides like baked beans, mac & cheese, and cornbread. Plus, a little bite of anything coming out of Pig Beach's smoker will make your dog's day.
How to book: Walk in for the patio
THE WILSON NYC
The Wilson
Featuring a truly wild dog menu with a $42 grilled ribeye, $28 salmon, and $11 bowl of apples and carrots, this is the spot to take your pooch—but only when they've been a very good dog. Like, winning Westminster good. The New American-style restaurant has food for you, too, with dinner spanning pasta dishes, a hanger steak, and sandwiches, plus a full raw bar and appetizers for lighter bites.