Baseball Player Lets Praying Mantis Hang Out On His Head During Game
Typically, a baseball team is composed of nine players on the field.
But the other day, this team had 10.
Sometime during the ninth inning of a recent Washington Nationals game, a certain someone who wasn't on the roster decided to join in on the action.
It was a majestic praying mantis.
She evidently didn't bring her baseball cap, so she borrowed one from another player. While he was still wearing it.
That player was Victor Robles — and he didn't seem to mind at all:
Though it wasn't clear at first, while Robles was in the dugout,
whether or not he knew about the little green tagalong atop his cap, once he took to the field he made sure the mantis knew the drill.
At one point Robles signaled to his teammates — including the bug on his hat.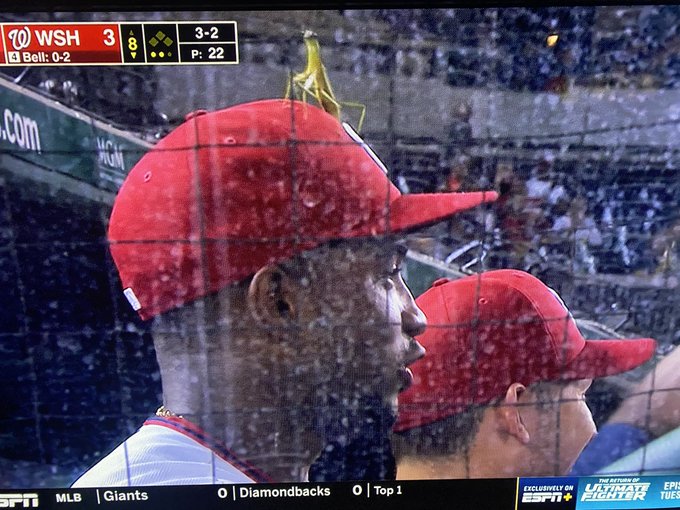 Where the mantis had come from, or where she ended up after the game, is anyone's guess.
Whatever you do, don't tell Victor Robles that he's playing CF with a praying mantis on his head.@Victor__Robles // #NATITUDE pic.twitter.com/o3P0yE68cC

— Washington Nationals (@Nationals) August 3, 2021
But thanks to Robles willingness to let her hang on his head, she was — even if only briefly — a member of the team.
Robles is forever awesome for this pic.twitter.com/tEPpfjxR7l

— Absolutely Hammered (@AH_Pod) August 3, 2021