Newly Rescued Senior St. Bernard Survives 17 Days In The Freezing Cold
At 10 years old, a St. Bernard named Old Lady had survived life in a puppy mill. But her rescuers didn't know if she would survive the winter cold after she escaped and spent more than two weeks in the Minnesota woods. Old Lady was one of 400 dogs rescued from a puppy mill in early January.
The senior dog went into foster care with Ruff Start Rescue, but just as she was about to enter her new home, the unfamiliar surroundings spooked her and she bolted."The foster picked Old Lady up and brought her to her home," Azure Davis told The Dodo. "As soon as the foster got her out of the car on her leash,
Old Lady got spooked from the crunching ice sound and took off dragging the foster with her partway down the icy driveway."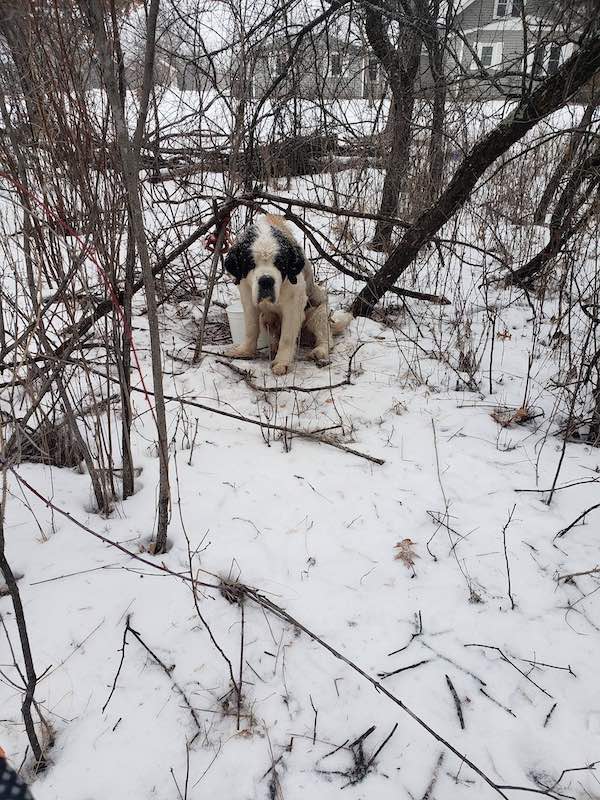 Rescue volunteers and her foster family immediately began searching the area. "We have had search parties, signs, phone calls, and so many people out looking for this poor girl," the rescue wrote on Facebook.
But for 17 long days they searched without success. Ruff Start Rescue described the St. Bernard as "one strong and quick dog, especially for her senior age." Despite her fitness, they were still concerned. "She has been out enduring this freezing cold weather (and just recently shaved!)."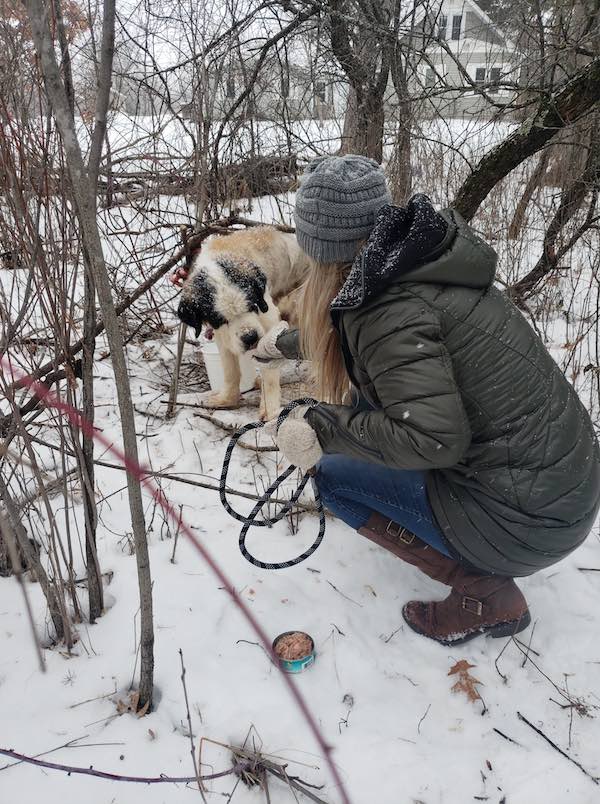 But finally, after weeks of looking for her, they finally found her. Old Lady had gotten tangled on a tree but was spotted by a Good Samaritan who called the police.
"We think she has been tied up here since Friday. We have had the assistance from the amazing organization The Retrievers and we cannot thank them enough for all of their dedication to this case."
"It's a miracle! She's safe and back in the care of RSR. Thank you so much to everyone who helped make this possible. The exposure is what led this to be possible. The Sherburne County Sheriff's Office deputy got a call about a dog tied up in the woods, and right away, she knew about the dog and got a hold of us immediately!"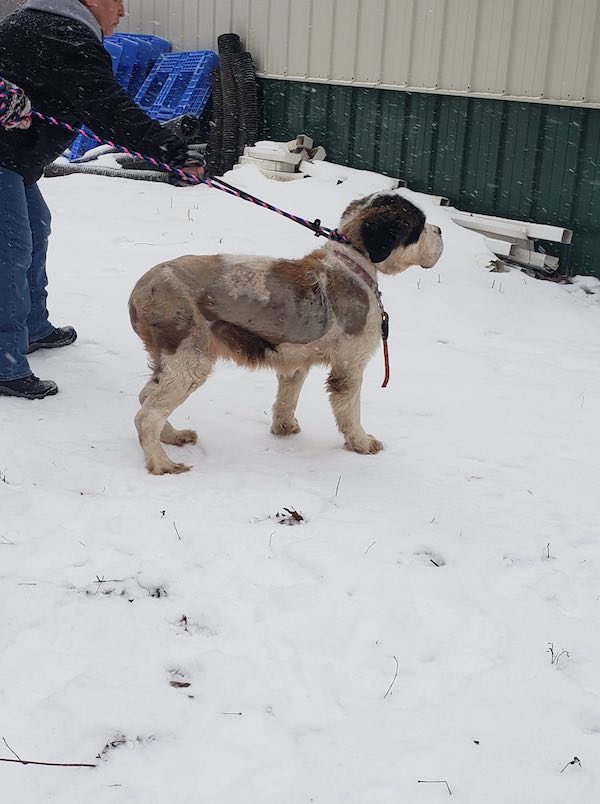 Old Lady was in poor shape and they brought her to the vet immediately. But after resting and getting food and water she began to feel better. Old Lady's story has a great ending. Shortly after her rescue, she got a forever home. "She will do 'foster to adopt' until healthy," Ruff Start Rescue wrote. According to her rescuers, it was love at first sight for both of them.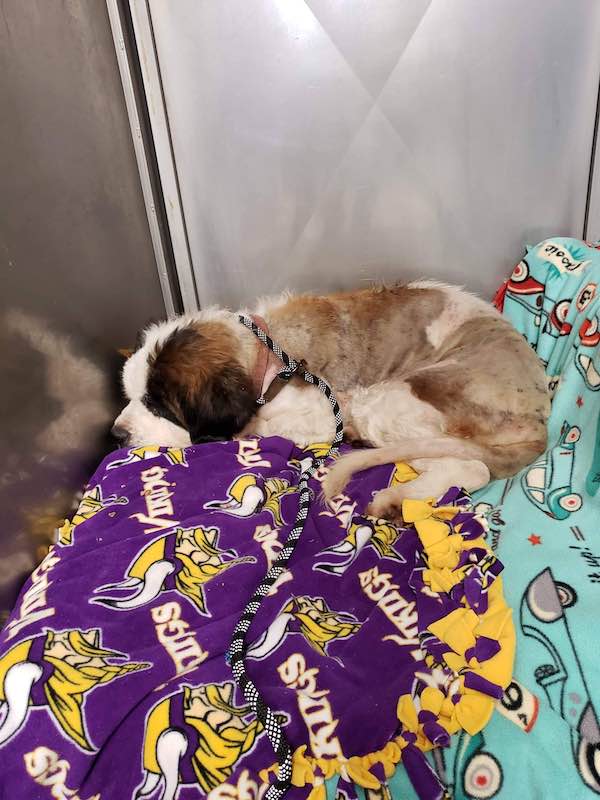 They captured a photo of "the first kiss she has given".
They also ensured Old Lady wouldn't be able to run away a second time. "And yes… we have 2 leashes, 1 slip lead, harness and martingale collar on her along with 2 handlers. We're not taking any chances."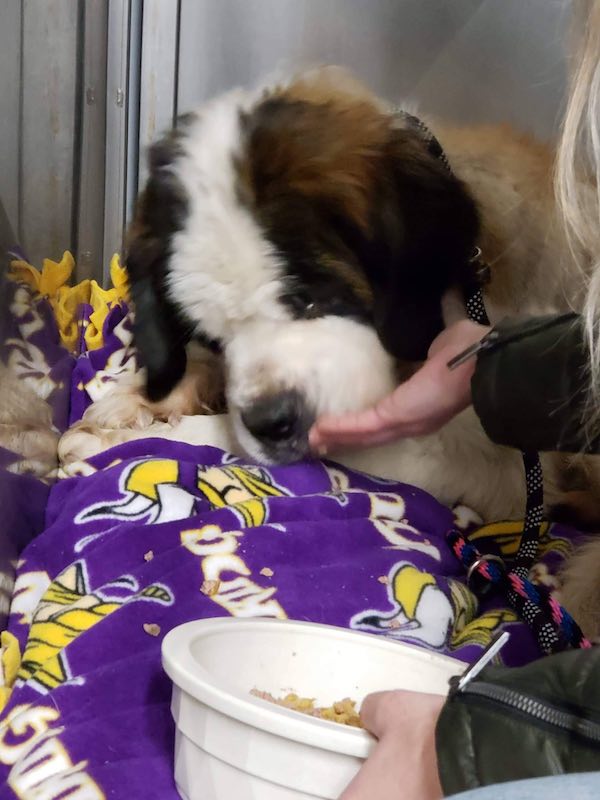 And with that, Old Lady successfully left the building and this time was heading home.