Vets Are Warning Dog Owners About The Dangers Of Marrow Bones
The Wasson Memorial Veterinary Clinic shared a picture of a marrow bone stuck over the lower jaw of a dog and captioned it, "Watch out for marrow bones. Here's another unlucky dog."You might be surprised to learn that veterinarians are actually seeing this issue a lot more frequently than they would like to.
In North York in Canada, firefighters responded to something similar recently. A woman had come asking for help when her 10-month-old shepherd mix, Ginger, had a bone stuck on her lower jaw. Apparently, the woman went to the veterinarian and they told her to take Ginger to an emergency veterinary hospital.
She decided to get some extra help along the way at the fire station.There was never any serious danger and the dog was still breathing. The fire crew decided that they would take Ginger to the Willowdale Animal Hospital and provide assistance to remove the bone. A Dremel Tool eventually used to cut the two sides of the bone.
The veterinarian that gave Ginger help, Dr. Jonathan Bloom, said that it is fairly typical to see dogs with a marrow bone stock over their lower jaw. He told City News, "You see it quite frequently. They'll come in with these marrow bones wrapped around their lips and lower jaw."
The problem is, the bone gets stuck on the dog's large fang teeth (canines) and when the lips swell, it locks the bone in place around the lower jaw.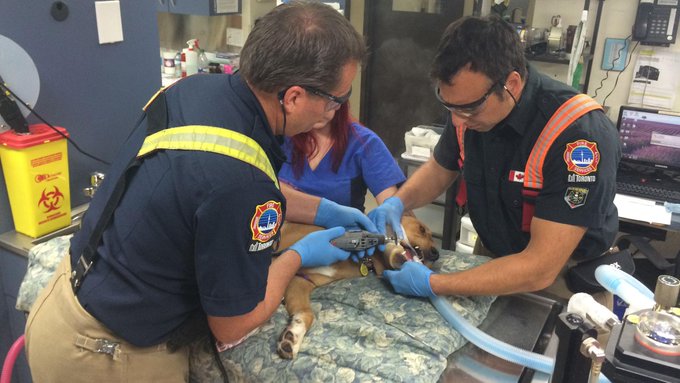 Anesthesia is usually given to the dog and they try to wiggle the bone until it comes loose. If that doesn't work, the bone has to be cut off. According to Dr. Bloom, this was the first time that firefighters assisted and a Dremel Tool was used.
Dr. Bloom and other veterinarians would like owners to be careful about which bones they are feeding to their dogs. These types of bones can break teeth as well as splitting, resulting in serious stomach issues.